Areteem Institute of Witchcraft and Wizardry: Daily Magic Spells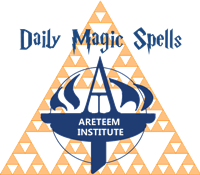 A new problem is available Monday through Friday. The correct answer and the full solution will be shown the next day. Your score will be recorded and the rankings of the participants are shown on the front page!
Each problem is labeled with its level, but we encourage everyone to try as many problems as possible.
Please use this link to access the previous Daily Magic Spells from earlier months.